Attention marketers who want a bigger list fast...Take A Look At What My Last Client Had To Say...
"It Seems Incredible That You Can Offer Solo Ads At This Price!"

Send Your Solo Ad To A Highly Responsive List Of Internet Marketing Subscribers!
Here's your chance to have me send YOUR SOLO AD to my entire list of internet marketing subscribers! The sooner you order, the sooner it goes out!

You get all unique and raw clicks.. You're in good hands.. I've been selling solo ads since 2008!
Your Solo Ad Could Easily Bring Hundreds of Subscribers!
Your solo ad is sent to my list - NOT to pop ups, pop-unders, safelists or traffic exchanges.

PLEASE NOTE:
1. You must have a good product, service, gift etc...NO JUNK
2. No Chain-letter, AlertPay Trippler lol Matrix Stuff. "Free" And "Internet Marketing" Related Will Get Best Results.
3. Your Solo Ad Will Be Sent Out Within 14 Days Or Less In Most Cases.
4. I use my own ad copy (email swipe) for these solo ads (except option D).

I RESERVE the right to refuse ANY solo ad. If I do not think its a good fit and if you cannot change URL -- I will refund your money.
Check Out What Other Marketers Have Said...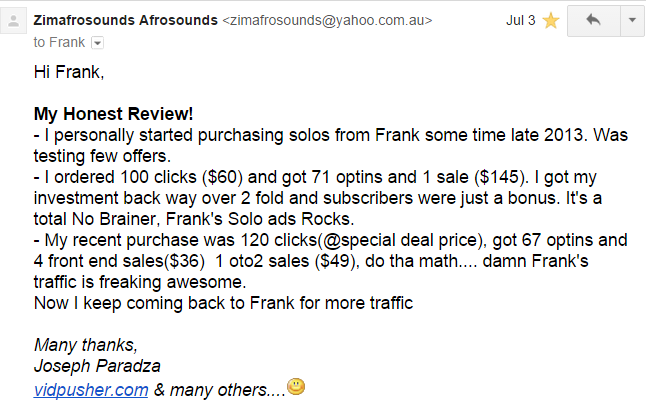 "Frank made everything so easy!"
I ordered a 200 click solo from Frank recently and had great results so took up his offer to email his entire list. In total I got 186 opt-ins and three paid members into my primary business.

I am a relative newbie and Frank made everything so easy.

I look forward to using Frank's services again in the near future.

Regards
Paul Twinning


"my business has grown massively"
All I can say is "WOW", my business has grown massively!!

I have bought multiple solo ads from Frank and by far he is simply amazing to work with. Not only do I get conversions and make a profit on each one; working with someone like Frank, who responds to all my emails and answers all my questions goes a long way in my book!

Anyone who is looking to buy solo ads should feel confident in knowing Frank is a straight up honest, hard-working guy who has a very responsive list. Thanks so much Frank.




Beth Allen
http://massivetrafficlist.com
"Frank is your man!"
I have done a number of solo ads with Frank now and have always been impressed with the traffic quality and speed of delivery. Not only have I been paying less than elsewhere, but the quality has been higher as well. If you need lots of traffic, and fast, Frank is your man!

Adam Harding
http://WebTrafficToolkit.com
"300 subscribers and 812$ in backend sales"

Wow! 750 unique clicks so far and we already have 300 subscribers and 812$ in backend sales! I don't think I need to say anything else. Excellent traffic - past 1$ EPC!Crazy!! Keep going guys. We'll be back for more!

Aditya Reddy from The Business Brothers
http://thebusinessbrothers.com

"Frank's list BUYS!"
I buy many solo's every single week and lets just say that Frank's list BUYS! I don't say that lightly and if you have the chance to purchase one off of Frank feel fortunate because he might just stop selling them completely. I personally would If I was him because I'm pretty sure he would make way more not selling them and promoting products!



Bob Beckett

"You cannot go wrong with Frank"
If you're interested in buying solo advertisements. You cannot go wrong with Frank. He over-delivers and sends a ton of quality traffic for every solo that I've purchased with him. Definitely a good way to grow your list at warp speed and make some $ at the same time when you start selling to your new subscribers!

Thanks Frank!


Alvin Huang
http://AuthorityHubX.com
"Frank has always over-delivered"
If you're looking to build your list fast or make instant sales then Frank Salinas is your man. Frank is a Top Internet Marketer with 100% integrity and his highly responsive list has been my secret weapon for taking the Internet Marketing World by storm!

Frank has always over-delivered on traffic and clicks and was always done within 48 hours. The quality of his traffic and service is top notch.

I highly recommend Frank's services to anyone serious about building their email list and their online business...

Thanks a ton Frank!


Shane Purcell
The IM Pro Superstar
Guaranteed-Online-Success.com
"S
omebody that you can rely upon and trust"
I've known Frank Salinas for quite some time online. Over that time I've had many dealings with him. I have never known Frank to be anything except upstanding and honest in everything that he does. He is one of those people who goes out of his way to do the RIGHT thing by others and I recommend him as somebody that you can rely upon and trust.

Gary Simpson
motivationselfesteem.com
Perth, Australia
"I picked up over 550 new subscribers"
Just wanted to say thanks for the great solo ad! I was able to recoup my costs with OTO sales and I picked up over 550 new subscribers in the process! SO....it was an AWESOME solo ad purchase! Thanks again!

Thanks Frank!

Craig Raphael
*I CANNOT determine the results you will receive with your solo ad. The only thing I can guarantee is that I will email my subscribers and get you visitors from my newsletter!
Terms of Service - Please Read:
By making your purchase below for a solo ad from Frank Salinas, you agree that you are purchasing manual services from me personally, Frank Salinas. Solo ads are non-tangible goods and are not covered by a refund option whatsoever, regardless of the reason why. If for whatever reason you have doubts that you can trust me or this service, do not purchase. By placing an order for a solo ad, you agree to the no refund policy.
Option A: 100 Unique Clicks
Only $60!
Bonus: Receive 10% Extra Clicks Guaranteed!
Option B: 200 Unique Clicks
Only $110!
Bonus: Receive 10% Extra Clicks Guaranteed!
Option C: 400 Unique Clicks
Only $200!
Bonus: Receive 10% Extra Clicks Guaranteed!
Option D:
I'm now sending solo ads to all my subscribers, including all buyers...using your subject line and your ad copy.
That's right! NO ONE DOES THIS
I'll Send Your Own Swipe To My Whole List Including All My Buyers Two Times In 1 Day!
Here's how it works: You'll get a solo ad sent to my entire list PLUS I'll even include ALL my buyers...Which is almost 3,000 people.. who have paid me $10 - $1,000 for products & services..

I'll send out your offer using YOUR SWIPE (your subject line and ad copy) to all my subscribers.. then resend it again to all un-openers 12hrs later! I will never redirect the traffic.. you will get all the clicks.. even if they click the email a week later!
This is about as highly targeted as you can get for a solo ad..
Only $250!
Here are some of the past solo ads like this I have sent.. keep in mind.. the people that clicked were extremely targeted to the offer since I used the exact ad copy that was given to me.
If your ad copy is extremely long, I will make recommendations to shorten it.. short and sweet that gets people wanting to click works best.
Don't have a credit card?
I Also Accept Payoneer
My account email for Payoneer is: frank@franksalinas.com
Frank Salinas